Ambrosia Plasma relaunches - announces improvement in key ageing biomarkers
The Club interviews Jesse Karmazin, CEO, to find out more about the trial, the FDA warning, and the relaunch
Ambrosia has relaunched after a temporary self-imposed shutdown and has released more results from its clinical trial. The Live Forever Club interviewed Jesse Karmazin, MD, its CEO and founder, to find out more about the clinical trial results and what's changed to allow them to open their doors again.
What were the results of the clinical trial?
Between 2016-18, Ambrosia Plasma ran a "paid for" clinical trial to determine the effects of young blood (i.e. plasma from under 25-year-olds) on older people. Although not formally published, some results have been presented at conferences observing that a single plasma transfusion resulted in statistically significant improvements in biomarkers related to Alzheimer's disease, cancer, inflammation, and stem cells. Blood analysis was carried out independently by Myriad RBM.
Two results that Jesse highlighted were decreases in carcinoembryonic antigen and amyloid, observed one month after treatment. As blood plasma typically replaces itself within a few days (after a blood donation) this suggests that the improvements could be durable in the long-term, rather than just a short-term dilution effect.
Carcinoembryonic antigen (CEA) is a group of glycoproteins involved in cell adhesion. It is usually only present in the blood at very low levels, with elevated levels often seen in colorectal cancer patients, but also heavy smokers. Cui Hao et al (2019) concluded that increased serum CEA levels are associated with ageing. Hence the 33% decrease in CEA seen after one plasma treatment is an interesting result.
Likewise, the 20% decrease in amyloid – a protein well known for being involved in Alzheimer's disease – is also exciting. In fact, Ambrosia saw one patient's memory improve so much that it returned him below the threshold of an Alzheimer's diagnosis.
On top of the quantitative results, patients also reported quality of live improvements in exercise, memory, skin quality, and sleep. And these are typical of the subjective benefits reported by people who have received the treatment since the trial.
What happened with the FDA?
So, with results so good, what happened with the FDA? It's a bit of a mystery to Jesse. He says that the FDA didn't contact Ambrosia before publishing their announcement. I don't know the usual process but given its field-leading knowledge it's odd that he wasn't consulted. I'm sure big pharma are interviewed before any warnings involving their products.
Jesse has moderated his comments about the FDA's actions, but is obviously angry about their behaviour; particularly the lack of contact before their announcement which would have given him the opportunity to put his side of the case.
The FDA statement didn't mention Ambrosia by name, though I'm not sure if there are any other companies providing a similar service. Importantly, it didn't call for the prohibition of plasma transfusions, but highlighted that there is no clinical proof of its effectiveness; which will remain the case until Ambrosia, or someone else, publishes their results. It also warned that the risks involved should be balanced against any benefits – but of course as it doesn't recognise any benefits that means their advice can only go one way.
The FDA statement highlights 2 key risks: circulatory overload and allergic reactions. Ambrosia has not had any patients experience cardiac overload, though a few patients have had an allergic reaction with mild affects that were resolved promptly in the doctors' offices.
After a self-imposed pause in treatments, the company took legal advice from lawyers who unanimously judged Ambrosia's service as legal. The detail of that legal advice hasn't been shared with the Club, though I suspect it was that the treatment cannot be marketed as a medical treatment (the website previously stated "Plasma is a medical treatment") but is allowed to be promoted in the same way as a beauty treatment. Though I don't think your average wellness clinic has treatments so well researched and actually proven to have an impact on your biological age.
What treatment does Ambrosia offer?
The young plasma transfusion therapy offered by Ambrosia is the same treatment as performed in its clinical trial, although the blood analysis carried out as part of that trial is not included in the treatment; so if you're interested in seeing the actual impact on your own biomarkers you'll need to arrange the tests yourself.
Ambrosia has proprietary agreements with blood banks in the US to ensure the plasma only comes from donors ages 16-25. Mortality rates for someone in their 20s is a tenth of that for fifty-somethings, so you could say they are being injected with plasma 10 times healthier than that in their system.
The procedure takes a few hours to perform – varying dependent on the dose chosen – it's $8,000 for 1 litre or $12,000 for two. It's available at their clinic in San Francisco, and they can also arrange for your own physician to carry out the treatment anywhere in the United States.
Ambrosia is one of the few companies currently offering young plasma treatments, though there have been a couple of recent investments that may see a related approach come to market in the future (though hard to say when). Elevian has picked out a specific protein in plasma, GDF11, and is looking at ways to reproduce its regenerative effects. Taking a wider approach, Alkahest is testing groups of plasma proteins and targeting each group at different disease (e.g. WetAMD and Alzheimer's).
The Club welcomes all research and development in this area, and looks forward to more positive results in future, but at the moment young blood plasma is the only available treatment. Sadly, it's not on offer in the UK. If it were, I'd definitely be interested in giving it a go.
References
CEA levels are associated with aging - Glycans and Glycosaminoglycans as Clinical Biomarkers and Therapeutics - Part A, Cui Hao et al, Progress in Molecular Biology and Translational Science, 2019

Plasma replacement - Wikipedia
FDA notice - FDA
Mentioned in this blog post:
Click on resource name for more details.
Ad Vitam Review (TV series)
SkinVision App Review – Instant Spot/Mole Assessment
Related Blog Posts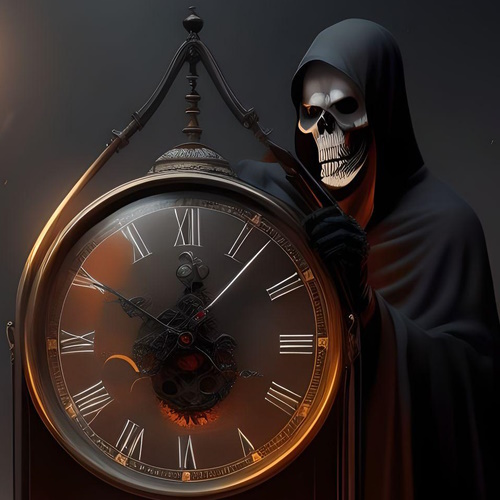 29-May-2023
Epigenetic age test provides information beyond biological age