Fountains of Youth
Here is a round up of the current contenders for slowing or reducing aging. As research continues, and if/when they make real advancements in human trials (or at least human cells) I'll split them into their own pages with more analysis.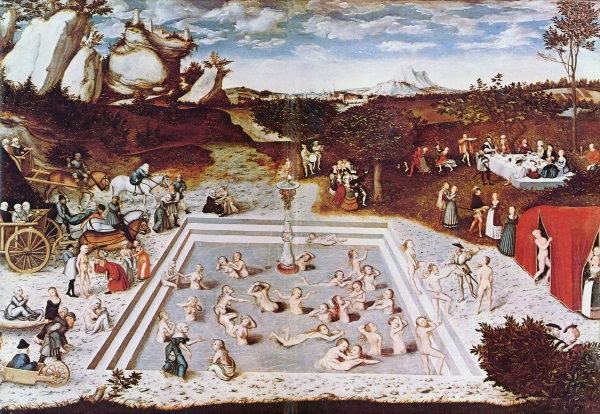 Metformin
Diabetics who are on metformin actually seem to be living longer than nondiabetics who are not on it - Bill Gifford
Radiation Hormesis
Non-sanctioned therapy used by athritis sufferers.
The Therapeutic use of Radon: A Biomedical Treatment in Europe; An "Alternative" Remedy in the United States - National Center for Biotechnology Information - 23-Sep-2006
Discusses the decision-making process involved in using radon, and compare the Montana radon health mine facilities with selected radon mines and spas in Europe.
Rapamycin (aka sirolimus)
A chemical produced by bacteria that has been shown to have immunosuppressive and antiproliferative properties. It is currently used in the prevention of transplant rejection and as a coronary stent coating, and is also being tested for certain cancers.
Recent News
Crowdfunding NAD+ Mouse Lifespan Study
Life Extension Advocacy Foundation (LEAF)
- 18-Sep-2018
NAD+ Mouse Project being run by Dr. David Sinclair at Harvard Medical School. Measuring responses at both the tissue and cellular levels. Previously shown that NMN can restore NAD+ levels in older mice. Will study if precursor nicotinamide mononucleotide can increase lifespan. Results will provide important data to help support human studies with NMN. COMMENT: I've just pledged - have you?!
NAD+ Repletion Shows Potential Against Aging
Life Extension Advocacy Foundation (LEAF)
- 05-Sep-2018
NAD+ is essential for many cellular processes, including signaling and DNA repair. Created from simple amino acids or in a more complex way via the intake of food. Difficult to infuse cells directly with NAD+ as too large to pass through membrane. In mice study rejuvenated muscle of 2-year-old mice to tissues of 4-month-old mice. David Sinclair restore blood flow in old mice using NMN which converted into NAD+. Now running a small-scale human trial on NMN. NMN could be a useful stop-gap while waiting for more robust therapies to arrive.
Cibinetide Shows Promising Signs in Anti-Aging
PR Newswire
- 02-May-2018
Cibinetide works via activating the body's innate repair receptor (IRR) Capable of decreasing age-related decline in heart function. Frailty score was also significantly lower in cibinetide-treated animals. Greater healthspan observed near the end of life. Cibinetide is currently in development by Araim Pharmaceuticals, Inc.