Biological Age
Chronological age isn't necessarily the same as cellular age. A middle-aged person may have a biological age of plus or minus 15 years.

biological age is a better indicator of future health
dozens of different aging markers study - including glycan, telomere length and methylation patterns
different parts of body can age at different rates
brains of older people who exercise regularly look 10 years younger
looking older could be a sign of an underlying disease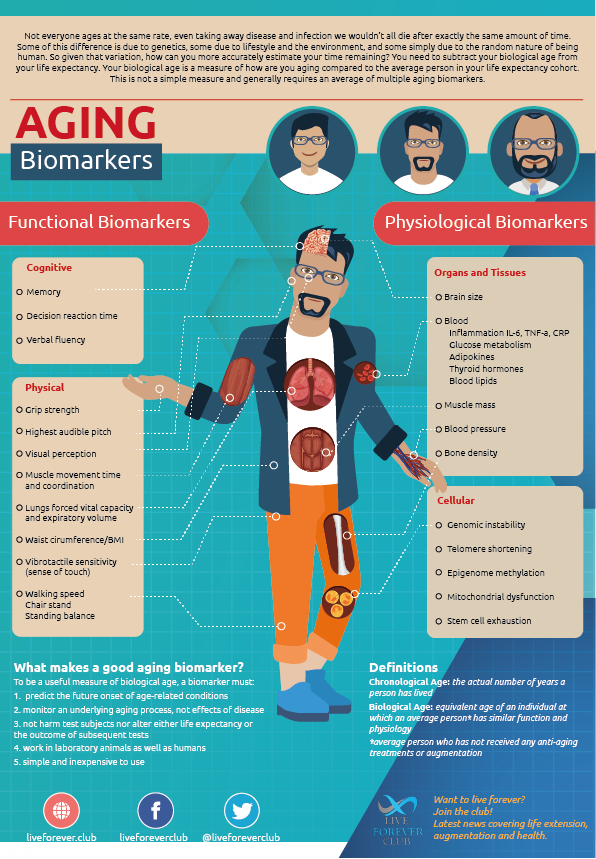 Identify where and how you are aging so you can target your anti-aging strategy and employ the most appropriate rejuvenation treatments.
Resources
NHS - Check your heart age
Insilico Medicine - Enter your blood test data to determine your age
Recent News
Gut microbiome predicts age with 4 year accuracy
LEAF
- 15-Jan-2019
It both affects and is affected by its host status
Nucleosome spacing of cell-free DNA reveals biological age
News Medical
- 21-Dec-2018
Always good to find a new biomarker of aging
Lifelong fitness results in a 30 years younger heart
npr
- 10-Dec-2018
We all know exercise is good for us - these biomarkers help to explain why
More Biological Age News