Bluecrest Health Screening Review
Unlike many private health providers that offer heath screening at their hospitals and clinics, Bluecrest Health's model it to provide clinics in hotels and other venues across the country, no doubt benefiting from only paying for clinic space as it needs it.
I'd received an invitation letter last year – no doubt being a middle-aged middle-class male hitting their demographic sweet spot – and when I received another one this year I thought I'd give it a go and find out what they're offering. Given their roaming nature I assume they only visit my town once a year.
The letter was like one of those money-making websites which scrolls on and on about all the amazing things it will do, the special offer I was receiving (though I suspect it's always the same price really) and the "PS" that statistically converts a few percent more readers to part with their cash. This probably works well with people that are new to health screening, but for me it made it harder to determine exactly what tests were included. In the end I opted for the Elite Health Check which added a haematology profile to the blood test and also a lung function check for chronic obstructive pulmonary disease (COPD).
My venue wasn't a hotel, but an executive box at my local football stadium, though a room is a room so assume the experience is pretty much the same wherever the setup. On a practical note I can say it was well signposted from reception right to the door which does make it easier when going to any kind of event in an unfamiliar location. Arriving at the numbered executive box I'm greeting by a table with glasses of water (the reminder email had said to keep hydrated) and a large pull up sign saying an "please take a seat and your screening consultant will be with you shortly".
I can understand the cost efficiency of doing it this way but sitting in the corridor of a public building or hotel with a big announcement of what you're doing may be off putting to some people. What might work better would be two adjoining rooms – one with an entrance sign and acting as a waiting room, while the other is where the action happens, and clients could leave discretely from an unmarked door along the corridor.
The door opened right on time and my name was called. One person in a nurse-like uniform, the other not, so I'm not sure if one was an assistant or trainee and possibly it's all done by one person at other times.
The basic format was questions on my health and family history (which prompted a final upsell of "have you had a prostate test recently – only £50") then quickly onto the physical checks, starting first with a height measurement. Surprisingly (to me at least) it hasn't changed within half an inch in 30 years. I'm too young to have started shrinking yet but I guess maybe I thought over 3 decades I might have snuck up a bit!
Next test was the weight and fat percentage – disappointingly the scales only had 4 pads (toe and heel for each foot) whereas my ones at home also have a handle to hold which I assume can provide extra readings and therefore accuracy. Then onto what I'd really come for – the cardiac heart rhythm check for atrial fibrillation, which requires an electrical pad on each limb. More than is easy to do at home, though I'd be interested to know how much that adds above the AliveCor phone gadget and app.
The final check on the bed was blood pressure of arm and ankle at the same time which can check for peripheral arterial disease. The email reminder and the introduction had made I clear that I wouldn't get results on the day, though they did say my systolic blood pressure was 114 which "was a bit low." I explained that my target was lower than that and the uniformed clinician corrected the other one that over 120 is high, but under it isn't bad. This is probably why they try not to disclose anything on the day, it's another legitimate cost efficiency to use the cheapest staff possible to run the tests so they're not going to be qualified to interpret the results – I'd be paying a lot more if I wanted a doctor to be giving me a full medical.
The blood sample was totally painless, not sure I even felt the small prick that phlebotomists always warn you is coming. For normal multi-analysis blood tests I have to either go to their lab or get a sample taken locally anyway so one of the reasons for doing this test was that I'd have to get a blood sample taken somewhere anyway, so may as well have a few other things thrown in at the same time. I once ordered a Medichecks "finger-prick home-to-lab test kit" and it came with 3 vials to fill. I'm lucky to get a single drop out for a simple blood glucose analysis so ended up getting a sample taken at the local hospital anyway. Anyway, back in the room, I think they may have had a centrifuge running to separate the blood before sending to tests, though I can't be sure.
As usual for blood test I'd had to fast for 8 hours, so maybe next time I'd try to get a morning appointment as by late afternoon I was starting to struggle and had a pile of snacks in the car ready to be demolished when I left!
The final test was blowing into a spirometer and I was given clear instructions on how to blow has hard as possible, as quickly as possible and for as long as possible.
When I received the report I was pleasantly surprised that the blood test was more comprehensive than I thought it was going to be. The results included general health (5 markers), liver function (5 markers), kidney function (4 markers), lipid profile (4 markers) and haematology profile (13 markers), as well as a few other things.
In summary, it was an efficient and reasonable value physical check-up. The only thing missing in my opinion was an electronic copy of the report – either in PDF or CSV format so that I could import the results more easily into my own personal health record.
PS the sign announcing what you're waiting for...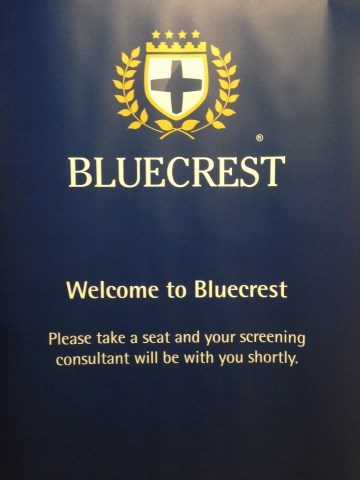 Mentioned in this blog post:
App providing an immediate analysis to detect atrial fibrillation, bradycardia, tachycardia and normal rhythm.
Health screening company.
Private Blood Tests and Home Health Checks.
Related Blog Posts