Daily weight fluctuations… or "I sh!t a pound"!
Weight slowly increases through the day - with spikes after meals (with corresponding lowered fat percentage)
I'm currently monitoring my weight, and more importantly my fat percentage, to see how quickly a low fat diet has an effect – blog post on that to come later.
As part of weighing myself every week I wondered how much variation there was in the figures and therefore could I really tell if I'd had a good or bad week?
So as a little mini-experiment I weighed myself every hour or so throughout one day to see how much the measurements fluctuated – and here's the graphs.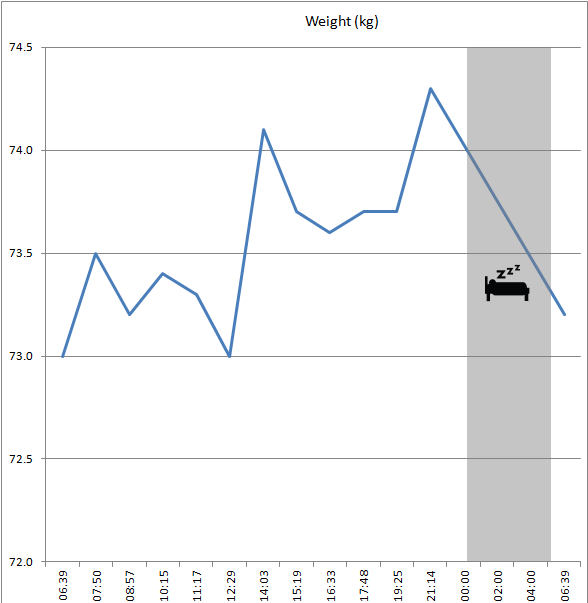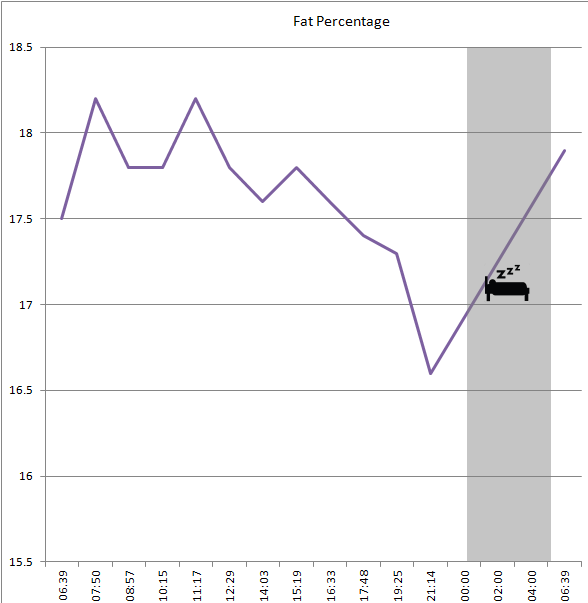 You can see that my weight rises throughout the day with spikes after lunch and dinner, and conversely my fat percentage drops throughout the day – with corresponding troughs after meals.
Which seems to make sense to me - eating a good meal doesn't immediately convert it into fat and so the fat percentage is temporarily lowered – but you're back where you started the next morning.
Results
Throughout the day, although it was random variations, my weight varied plus or minus 0.5kg (+/- 0.4% fat). And I guess this amount of variation should be no surprise as even a small glass of water weighs 0.1kg.
So for anybody watching their weight anything less than this shouldn't be considered a success – as Peter Kay famously said in his stand-up routine on Slimming World – "I shit a pound!"
Scales Accuracy
I also did a micro-experiment within the mini experiment as I wanted to see how much the fluctuations were due to the accuracy of the bathroom scales (OMRON BF508 Body Composition Monitor).
Taking 3 measurements immediately after each other, and without moving the scales in case floor position has an effect, they showed a variation of +/- 0.1kg (+/- 0.2% fat) which seems as good as you're going to get for a consumer product.
Mentioned in this blog post:
Click on resource name for more details.
Chocolate - an innocent pleasure
A coffee a day keeps the grim reaper away
Related Blog Posts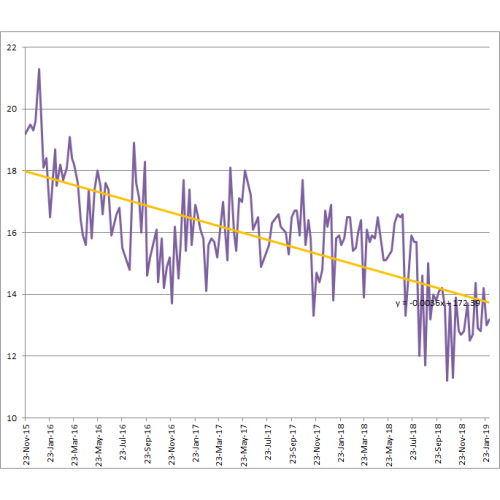 11-Feb-2019
Low body fat percentage doesn't need a low fat diet
27-Jan-2015
EnteroMedics announces FDA Approval of its electronic device that disrupts the signal between the stomach and the brain