Air pollution - a significant killer
Published 07-May-2015 (last updated 07-May-2015)
Last year Public Health England (a UK government body) published a report titled "Estimating Local Mortality Burdens associated with Particulate Air Pollution"- basically how many people die from illnesses causes by air pollution, broken down by region. Although individual deaths cannot be attributed to man-made particles in the air it attempts to determine how many deaths each year are caused by air pollution. And they came up with significant numbers.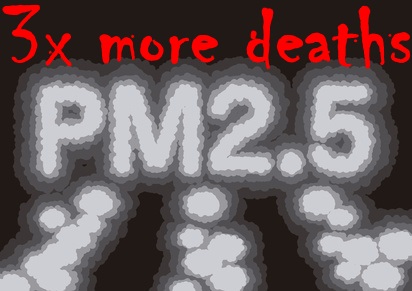 Remember, this isn't just some academic public health issue, the flip side of deaths caused by air pollution is that some deaths can be avoided. The report assumes an average loss of 12 years per attributable death. And 12 years is a long time in the exponentially growing field of medical technology. Avoiding death by air pollution may not save you from aging, but another 12 years of life might keep you around long enough to benefit from new life saving drugs and procedures.
PHE found that the fraction of mortality attributable to long -term exposure to PM2.5 air pollution (that is, caused by man-made particles smaller than 2.5um) ranges from under 3% to over 8% - so living in a polluted city is three times as dangerous as living in the countryside.
Two plausible ways to reduce the harmful effects of air pollution would be to reduce air pollution or to reduce exposure. You can help reduce air pollution across the country by campaigning for cleaner air (for example join http://healthyair.org.uk/) or finding a local group – there are surprising pollution hot spots even in quite rural areas. Then to reduce your own exposure (because option 1 is going to take some time to happen) consider masks, filtering air in your own home or even moving somewhere with lower pollution. Since reading this report I've already started job hunting outside of London to minimise the time I spend breathing killer air.
Here's a small section of towns and cities through-out the UK - to see your own location the full table starts on page 10 of report - https://www.gov.uk/government/uploads/system/uploads/attachment_data/file/332854/PHE_CRCE_010.pdf
| | | | |
| --- | --- | --- | --- |
| Town or City | Particle Concentration | Attributable deaths | Fraction of all deaths |
| London, including | 12.7 | 3389 | 7.2 % |
| - Westminster | 14.9 | 88 | 8.3 % |
| - Bromley | 11.1 | 161 | 6.3 % |
| Newcastle upon Tyne | 8.6 | 124 | 4.9 % |
| Northumberland | 6.9 | 128 | 3.9 % |
| Manchester | 10.4 | 219 | 5.9 % |
| Carlisle | 6.7 | 43 | 3.8 % |
| Leeds | 9.7 | 350 | 5.5% |
| Nottingham | 11.4 | 150 | 6.4 % |
| Derbyshire Dales | 8.2 | 33 | 4.7 % |
| Birmingham | 11.4 | 520 | 6.4 % |
| Worcester | 9.5 | 43 | 5.4 % |
| Cambridge | 10.2 | 47 | 5.8 % |
| Ipswich | 10.0 | 63 | 5.6 % |
| Reading | 10.5 | 62 | 5.9 % |
| Southampton | 11.1 | 110 | 6.2 % |
| Oxford | 10.6 | 55 | 6.0 % |
| Bristol | 10.2 | 196 | 5.8 % |
| Cornwall | 6.7 | 221 | 3.8 % |
| Cardiff | 9.5 | 143 | 5.4 % |
| Isle of Anglesey | 5.5 | 26 | 3.2 % |
| Glasgow | 8.3 | 306 | 4.7% |
| Aberdeenshire | 5.6 | 70 | 3.2 % |
| Belfast | 9.2 | 141 | 5.2% |